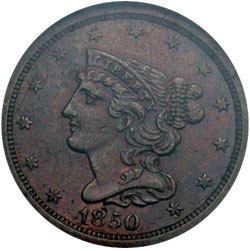 Like other early copper coins, the Braided Hair Half Cents were struck on planchets of pure copper. The standard weight for the denomination was 5.44 grams or 84 grains. The diameter of the pieces measures 23 mm with the coins having a plain edge.
The coins were struck in proof format only for the years 1840 to 1849 and 1852. Circulation strikes were made for the years 1849 to 1851 and from 1853 to 1857. All issues were struck at the Philadelphia Mint.
Production quality was typically good and most examples are well struck, although care is needed in selected premium pieces. Some dates are extremely rare with any Mint red color remaining, although the latter dates are somewhat easier to find.
The thickness of the planchets is said to be somewhat different for the various restrikes, thanks to the suspicious circumstances under which these were created.