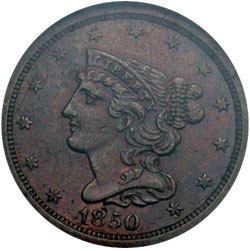 Like other early copper coins, the Braided Hair Half Cents were struck on planchets of pure copper. The standard weight for the denomination was 5.44 grams or 84 grains. The diameter of the pieces measures 23 mm, with the coins having a plain edge.
The coins were struck in proof-only format for the years 1840 to 1849 and 1852. Circulation strikes were made for the years 1849 to 1851 and 1853 to 1857. All issues were struck at the Philadelphia Mint.
For this series, all design features were present on the hub, making identification of the specific reverse dies very difficult and only possible by closely studying the die states or die lines present on every striking. This is a situation very different from earlier copper, silver, and gold coinage, where each die can typically be identified by placement of stars, the date, or specific reverse design features.